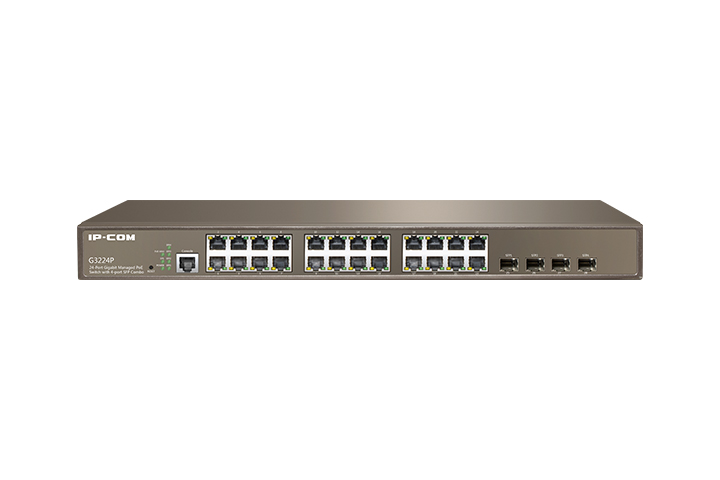 G3224P
24-Port Gigabit+4*SFP Combo Managed PoE Switch
Support VLAN
Provide comprehensive QoS
Power Over Ethernet up to 370 Watt
G3224P is Ethernet PoE Switch designed to build reliable and smart wireless network. Providing 24-10/100/1000 Base-T Ethernet ports and 4 SFP slots for high-access-capability. 1-24 port supports IEEE 802.3af PoE(15.4W) or 802.3at PoE+(30W) power supply, and PoE output full power up to 370W. Providing DC power and data transmission for AP, IP Phone and IP Camera through category 5 twisted pair. Providing safer protection system, excellent QoS strategy, rich VLAN function and stronger maintenance and management, which is a safe and easy PoE switch for your ideal choice.
Enhanced Ethernet PoE+ function
Providing 24-10/100/1000 Base-T Ethernet ports(PoE) and 4 SFP slots. 1-24 port supports IEEE 802.3af PoE(15.4W) or 802.3at PoE+(30W) power supply, and PoE output full power up to 370W. Providing DC power and data transmission for AP, IP Phone and IP Camera through category 5 twisted pair. Support PoE power smart management and support to setup supplied power and priority according to PD.
Hardware security protection
Support ARP intrusion detection to prevent Hacker or "man in the middle" attack caused by ARP spoof, discarding the illegal ARP spoofing message which is inconformity with DHCP Snooping dynamic-binding-table or manual static-binding-table. Support IP Source Check, preventing Invalid address from MAC deceive,IP deceive, MAC/IP deceive and the deuterogenic DoS attack. Plus, DHCP Snooping function can completely eradicate the private DHCP servers to ensure the authenticity and consistency of DHCP environment.
Service security
Effectively prevent MAC-base attacks. Permit or restrict flow based on MAC address, or setup the maximum number of MAC address by port-permited, allow static allocation by administrator for MAC address on appointed port or switch dynamic learning.
User security
Support the user authentication by 802.1X and MAC authentication, permiting the access from legal user and refusing the access from illegal user. Reduce the harm to nerworking security by checking and controlling the user` legality.
Reliable industrial grade design
Quality: Mean Time Between Failures--MTBF≥100,000 hours
Stability: 64 byte packet, time delay less than 10μs, packet loss ratio: 0
Restorability: when network is not stable or error occurs, reboot time less than 10s
Normal operating: operating in -10ºC to 45ºC, device service time over 3 years
Support VLAN
Provide comprehensive QoS
Power Over Ethernet up to 370 Watt
Features
Description
24-Port 10/100/1000 PoE Manage Switch
Standard and protocol
IEEE 802.3、 IEEE 802.3u、IEEE 802.3z、IEEE 802.3ab、IEEE 802.3x、IEEE 802.1D、IEEE 802.3af、IEEE 802.3at
linear-speed exchange on the second layer
linear-speed of all ports up to 35.7Mpps
Backplane bandwidth
56Gbps
Performance
Store and forward
Yes
Exchange capacity
56Gbit/s
MAC Address entries
8K
Support setting the maximum number of MAC addresses for learning
Port and Module
Fixed ports
24 GE Ports
1 console
4 SFP (combo)
Optional modules
SFP modules
Indicators
POWER,SYS,LINK/ACT,SPEED,SFP,POE
Optional power supply
Power supply module
Providing 24 port under 802.3af(15.4W) or 12 ports under 802.3at(30W).
PoE through 1 2 3 6 pin
Voltage input range
AC 100V~240V ;50/60Hz
Dimension
440*284*44mm (L*W*H)
Weight
5kg
Power consumption
Total power consumption up to 450W
PoE consumption up to 370W
Operating temperature
0ºC~45ºC
Storage temperature
-40ºC~70ºC
Relative humidity
Operational:10%~95%(noncondensing)
Relative humidity
Storage:10%~95%(noncondensing)
Software Feature
Link aggregation
Support LACP
Support manual link aggregation
Support up to 12 link aggregation groups and up to 16 GE ports per link aggregation group
PoE management
Support setup of PoE and power adjustable by priority
Support over temperature protection for PoE module
Support graphical management, detection of PD equipment and setting of the power consumption
network protocol
Support STP/RSTP/MSTP
Support looped Network for devices
VLAN
Support VLAN(4K) based on ports and stardand
Support Voice VLAN, VLAN Mapping, VLAN VPN(QinQ)
DHCP
Support DHCP Snooping、DHCP Relay/Client/Server
Support DHCP Snooping Option82/DHCP Relay Option82
QoS/ACL
Support ACL
Provide advanced security strategies and L2~L4 packet filter
Support ACL based on Time Range
Support QoS
Support message transmission for ports and limitation of speed
Support redirect message and CAR
Support 8 ports for output sequence
Support SP&WRR
Support remark for 802.1p/DSCP priority
Support management for QoS Profile
Security service
Support management for user classification and password protection
Support IEEE 802.1X authentication
Support centralized MAC address authentication
Support intrusion detection of ARP and protection of IP source address
Support SSH2.0 and port isolation
Management and maintenance
Support downloading and upgrading through XModem/FTP/ TFTP
Support configuration through CLI, Telnet, Console port
Support SNMP v1/v2/v3 and WEB-based management
Support RMON(Remote Monitoring)
1,2,3,9 RMON groups of MIB information
Support system log, hierarchical alarm, debugging information output
Support PING, Traceroute, Multicast Traceroute
Support remote maintenance through telnet
Support DLDP
Support loopback detection
Upgrade Notes:

1.This firmware is only fit for G3224Pv1.0 and its firmware version must be in V60.0.2.XX or more.

2.Do not power off the device when upgrading.

3.Please unzip the file you downloaded and use the file ended with "bin" or "trx" to upgrade your device.

4.Please reset it to factory settings after upgraded it.




Release Notes:

1.Solved the issue that ACL port bind info disappears on Internet Explorer 10.

2.Solved the issue that ports info shows unstable on Chrome 58.

3.Added Start Time in System Info page.

1.Incorrect upgrade will damage your device.
2.Do not power off the device when upgrading.

Only current firmware version of G3224P is V101R00X can be upgraded.Please do not power off when upgrading,otherwise it may result in hardware broken and can't start.