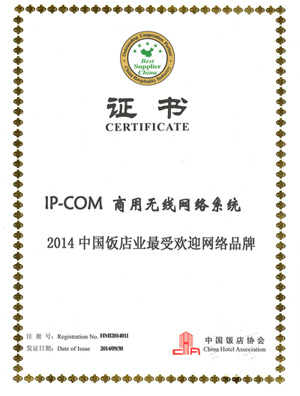 ---------IP-COM was awarded as " The Most Popular Networking Brand" by China Hotel Industry Association on, Oct. 10, 2014,

IP-COM Networks is a leading global solution provider of Enterprise networking products with its headquarters in China. As a global company, we have the widest range of wireless and wired networking products, including Gateway, Core Managed Switch, PoE Switch, Access Point , Access Controller, IP-camera etc. IP-COM has already been the China's Number one provider of WLAN products for Hotel Industry and is becoming the important player in the worldwide area. IP-COM products are available in over 80 countries to millions of global system integrators.

In order to capture more market share, IP-COM launched the differentiation strategy to distinguish IP-COM brand and product offerings from competition in the market, by acting in close coordination with partners and constantly updating them with the cutting-edge technology and trends. IP-COM have three key advantages.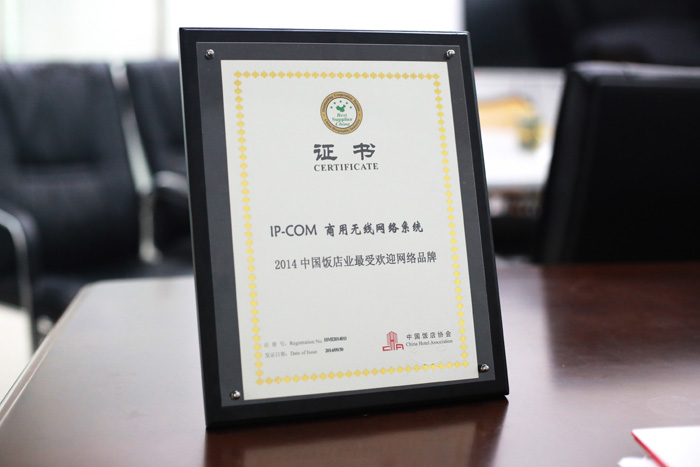 Firstly, IP-COM have very strong engineers team and well-equipped R&D center, including R&D branch office in USA. That ensures our capability to develop total wireless and wired networking solutions from Gateway, Switch, Access point ,Access Controller , IP-camera ,NVR etc.

IP-COM is one of the most professional solution providers and help system integrators cut down infrastructure cost. Solution Selling is IP-COM's significant advantage over other brands.

Secondly, IP-COM endeavors to maximize profits for our partners with aggressive price and rebate policy. IP-COM control the whole supply chain from raw material, manufacturing, R&D , marketing , Pre- and After- sales , value-added service etc. with its own factory in China with 2500 employees working in SMT, DIP line, assemble line, testing, QC , warehousing etc. IP-COM is one of the biggest partners of Broadcom, who is the biggest wireless chipset manufacturer in the world.

Thirdly," Easy" is IP-COM core design concept. By following the principle of "easy to use", IP-COM products are very user-friendly including simplified GUI and user manual, easy to operate software, practical packaging etc. Those factors give system integrators great impression when they install the IP-COM products in hotel and save lots of operation effort and time in project maintenance period.

Based on above IP-COM special features, IP-COM products have already been used in over ten millions of hotels in China and enjoyed high reputation in the Hotel WLAN industry. That is why IP-COM was authorized the Most Popular Wireless Brand of China in 2014.

Right now, IP-COM global team is dedicated to offer total enterprise solutions with best wireless experience to worldwide hotel. Our vision is "Any Data Packets from clients in Hotel will pass through more than one IP-COM device".

Remark: The China Hotel Industry Association is engaged in hotel and hotel supplies manufacture and sale of enterprises, institutions, organizations and management personnel composed of voluntary national cross-sectorial, cross-ownership, non-profit industry organization, an existing member of over 1000 number.