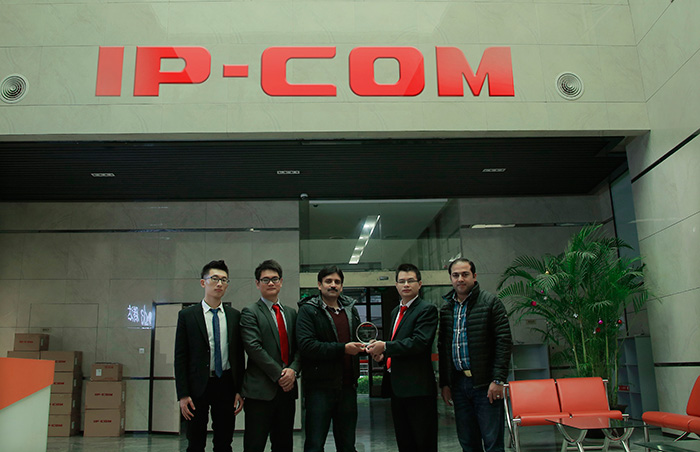 At the beginning of 2015, IP-COM, the global leading supplier of networking solution, signed the Distribution Agreement with IMEX, as one of the most important suppliers of local ISP, IMEX will be a good partner for IP-COM to break out Pakistan market.
IP-COM global general sales manager Mr. Kinson received the general manager and marketing director of IMEX in IP-COM's Shenzhen Headquarter. After visiting the Headquarter and Manufacture Center, IMEX got a deep understand to the capability of IP-COM on product, research, production and marketing. 15th, January, 2015, both sides signed the 'Brand Distribution Agreement', defined the developing strategy of IP-COM in Pakistan in the coming 3 years. They also confirmed full set of specific, feasible and localized marketing and service strategy based on IMEX's years of industry experience in local market.
As one of the most important supplier of local ISP, IMEX has very professional industry background and always treats customer' demand as its first consideration. This is also the reason why IP-COM choose IMEX as its country distributor. The head office of IMEX located in Islamabad, which is the center of economy and culture in Pakistan. With years of experience in networking communication industry, IMEX's business can cover not only whole Islamabad but also Karachi, Peshawar and Rawalpindi. In whole Pakistan, IMEX has built mature sales channel, full energy sales team and completed after-sales system, all of these ensure them powerful enough to provide professional, timely, overall technical support and maintaining service and help them to earn high market occupancy. IP-COM will work hard for achieving its goal of 10 million USD within 3 years with the help of those supports provided by IMEX.
From its establishment, IP-COM always devoted to create the brand influence all over the world. Relying on its advanced networking solution and mature marketing extension system, IP-COM earned fast development within those years, up to now, more than 10 thousands of hotels have been deployed IP-COM's products, including PoE switches, access points, access controllers, routers as well as kinds of core technologies, lots of consumers from Thailand, India, Indonesia, Saudi Arabia, Pakistan, England and Brazil also gave high acceptance to our product and service.
In 2015, IP-COM will speed up the development and look for professional partners positively worldwide. IP-COM promises, with close collaboration, completed pricing strategy, stable quality assurance, mature delivery system, professional networking solution, IP-COM will provide high cost efficiency products and high grade, timely service to all terminal clients. With its stable, rapid development, IP-COM will certainly shock the commercial networking market all over the world.